About Us
Resources
How To Ace Your Teaching Cover Letter
How To Ace Your Teaching Cover Letter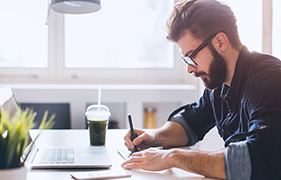 Do you think the recruiter reads cover letters!

Many people wonder if a cover letter is a must-have for the job application. Plus, writing a cover letter does seem hectic. However, while it is much easier to just send a resume, but rest assured cover letters are read!

In fact, it is likely to get you an upper hand to stand out from the pile of applications. Why! Because in today's time it is absolutely important for the prospective employer to know who you are as a person and what makes you a potential candidate in comparison to others.
What Is A Cover Letter?
Cover letters are an essential part of the job application, when you send out your resume along with a cover letter, you are not only following what the recruiter has asked you to do, you are also showing your professionalism.

The goal of this one-page document is to provide an introduction of yourself and to brief your professional background. Usually, cover letters can be 250 to 400 words long. One major difference between CV/resume and cover letter is – it sort of gives an overview of the relevant skills and experience that are specific to the job offer. You can highlight the areas on the basis of JD (job description) that makes you a fit for the role.
Why Do You Need To Write A Cover Letter?
Think of it as you are kind of pitching yourself as to why are you interested in the job and why should they hire you. Cover letter can potentially drive the recruiter to read your resume. It also gives you an opportunity to expand on your resume, where you can build an explanation about particular expertise that seems to match company's advert, like if you are applying in an online ESL company, how a specific skill set can help you integrate ESL teaching that are methodologies required to teach in classrooms globally.

In addition to this, writing a cover letter can allow a scope to explain any difficulties that might seem questionable, for instance, if you had a gap of employment, a lack of teaching experience in terms of years et cetera. With a cover letter, there is an open door clearing the air on these potential setbacks into a positives outlook.
3 Classic Tips To Prepare A Successful Cover Letter –
Scan Sample Templates
Sample cover letters are a great source especially for beginners to understand the nuances. There is a basic structure to how a cover letter should look like. Don't worry cover letter does not need to be creative, you don't need to flaunt your recruiter with words. Start the letter with a short introduction on why you are writing. Layout the convention of a formal letter. Follow these steps

▣ A Header with your contact information
▣ A Greeting to the recruiter
▣ Introductory paragraph – try getting the attention of the reader's attention.
▣ Middle paragraph – justify why you're the perfect candidate for the job role.
▣ Rap-up paragraph – show you're interested to work with them.
▣ Formal closing/salutation.

Keep It Unique For Each Apply
Don't make the mistake of sending the same cover letter for all the jobs you apply for. Cover letters are meant to be specific and one-on-one. Write a fresh cover letter for each job you apply. It can potentially increase your chance of standing out to the recruiter.

The reason being, employers do want to see your eagerness about the job role that they are offering. A custom-made cover letter is the only way to pinpoint just excitement. You can of course recycle some of the bits and pieces from your made cover letter, but make sure to not send a generic letter for all.
Don't Repeat What's On Your Resume
Take this as another gentle reminder. Cover letter is considered page 1 of your entire application. Talk a bit about who you are, your passions and dreams, how you handle responsibilities. Do not simply repeat the content of your CV/resume. Rather, try to expand your teaching skills and experience and help your recruiter paint a fuller picture. You can also show off your accomplishment to explain why you are perfect for the position.
Your Takeaway
While writing a cover letter can seem overwhelming to write at the beginning of your ESL journey with TEFL course certification, once you get familiar with it, things will be much easier for you. the key to ace your cover letter is to make a killer introduction that can lead your prospective employer to get to your resume. When you highlight your relevant skillset, make sure to present yourself as an exciting candidate and that you do want the job.