ACT Trainers
Asian College of Teachers - Trainers
We, at Asian college of Teachers, have an outstanding group of trainers who impart high quality training and share knowledge and best practices to equip students with the latest methodologies in the field of teaching and allied areas preparing them for the global classrooms.

Trainers are as follows :-
Dr Sanjib Chakraborty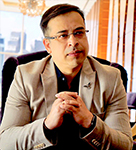 Dr Chakraborty is a PhD in Management Science from University of Hertfordshire, UK with two Masters - in Education (M.Ed in Curriculum & Instruction Design) and in Business Administration. He is a Diploma holder in Learning & Development, CIPD, UK, a Certified L&D Practitioner from British Institute of Learning & Development, UK and a Certified Trainer from Singapore Institute of Management, Singapore. He has been a lecturer at a University in Bangkok, Thailand and presently lectures at several international universities in Asia. He is an ardent facilitator and an avid traveler who has been to more than 41 countries conducting workshops and creating engaging learning experiences through custom-made professional courses.

Dr Margaret Maughan
Dr Margaret Davitt Maughan is a Senior Educator with Ed.D. Leadership, from the University of San Francisco and 35 years of experience in classrooms, curriculum development and interdisciplinary studies. She has the expertise in instructional organization and the ability to make the subject useful. Dr Maughan has also been into academic research and has several professional presentations and publications to her credit.

Ms. Kuhurina Basu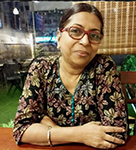 Ms. Basu holding M.A., M.Sc., has 30 years of teaching and 10 years of administrative experience in Mumbai, India and London, UK. She has been Master Trainer and Centre Head for the Cambridge International Diploma for Teachers and Trainers in Navi Mumbai and has also served as ESOL tutor, mentor and administrator at East London Business College, London.

Dr Janat Blackmon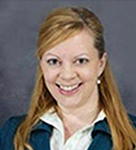 Dr Janat is a Canadian educator and PYP Baccalaureate educator who is passionate about international teacher training and has completed her PhD in Education Leadership. Presently, she is based out of Texas, USA and engaged with a leading school project She has been working at KIS – an incredible IB World School/CIS accredited international school in Bangkok, Thailand. She has 9-year experience working with Lertlah Schools in a Thai-English Program with Canadian curriculum.
Dr Thomas James Miller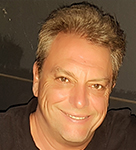 Dr Thomas James Miller is a passionate educator with 30+ years of experience at the elementary, secondary and tertiary levels across the globe. He has Doctorate of Philosophy in Education, Educational Administration, Theory and Policy Studies, Ontario Institute for Studies in Education/University of Toronto (OISE/UT); Master of Education, Modern Language Centre, Curriculum, OISE/UT; Bachelor of Education: Intermediate/Senior Qualifications, York University and Honours, Bachelor of Arts: French and English, Glendon College, York University.
Mr Robert Blease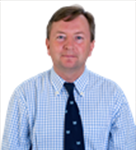 Mr Blease is an education advisor with 25 years' teaching, teacher training and school evaluation experience. He holds a Master's in Education (MEd) English Language Teaching, University of Manchester; Post Graduate Certificate in Education (P.G.C.E) from Bath Spa University and Bachelor of Arts (Hons) History from University of York. He is an IELTS examiner with The British Council and has been associated with COIS (Council of International Schools) BSO (British Schools Overseas) as an evaluator and inspector.
Ms. Petra Vejvodova
Ms. Petra is a senior educator and administrator with an extensive teaching and administrative experiences in areas like Primary, TEFL and Special Education. She has started her teaching career at Frystak Middle School, Czech Republic as an Activity Director in 1989 and has since then travelled to India, Ethiopia and China teaching at schools like Bishop Cotton Girls School and Canadian International School in India, Sandford International School in Ethiopia and presently, Hanova International School in China.
Mr David Bourke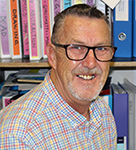 Mr David is a fully qualified Secondary Teacher with over 25 years' experience and holds Bachelor of Asian Studies, Graduate Diploma in Education, Graduate Certificate in Education (Special Needs), TESOL/TEFL Qualification. During his years of teaching, he has performed the role English, ESL, Special Needs teacher and Literacy coordinator both in Primary and Secondary Schooling. He has taught both in the Government and private systems in Australia and many countries including: Mexico, UAE, Saudi Arabia, East Africa, India, Vietnam and Spain. Currently he is an English Language teacher in Spain for school students as well as adults.
Ms. Anamika Mukherjee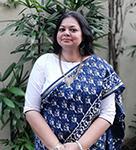 Ms. Anamika is a senior teacher trainer at Asian College of Teachers (ACT) and has 20+ years' experience in Training and Operations across Corporate and Academic sectors. Anamika has been training professionals across all verticals and has worked extensively with some of the top corporate brands in both Operations and Training and handled prestigious projects at Wipro, Hewitt and Acclaris. She has been into TESOL/TEFL Training in both India and Thailand and has also been the lead Trainer for Learning and Development Programs. She is TESOL CANADA certified from the Board of Teachers of TESOL CANADA. She has been training successfully, both mid and senior level in the corporate for a long time now.
Ms. Jhumur Chattopadhyay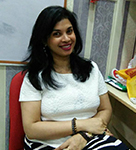 Ms. Jhumur is an academic professional with 13+ years extensive work experience in New Zealand, India and Thailand. She is a Certified NLP Practitioner and holds Diploma in NLP, Advance Diploma in NLP, National Certificate in Social Services from Te Wananga Aoteara as well as Out of School Supervision Certificates conducted by New Zealand's Ministry of Social Development. She is also TESOL Certified from the Directors and the Board of Teachers of TESOL CANADA. She has experience in teaching both young and adult learners.
Ms. Sudeshna Guha Thakurta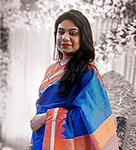 Ms. Sudeshna is a member of the Training and Academics division of Asian College of Teachers and conducts Learning & Development sessions and TEFL courses. She has completed her Bachelor of Science in Advertising, Marketing, Sales Promotion and Sales Management. She has been a Corporate Process as well as Communication Trainer and Quality Analyst with substantial training experience of 14+ years in Customer Relationship and Refresher Orientation for organizations like HSBC, ITC Infotech and has worked with Aviation companies as well as has experience in the Hospitality industry.
Ms. Rimpa Ghosh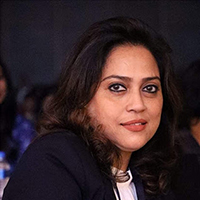 Ms. Rimpa holds B.A in English from the University of Calcutta. She has done the 120-hour in-class TESOL program and successfully cleared the TESOL Canada Board Exam. She is also a certified IELTS trainer and her areas of expertise are Communicative English, Early Childhood Education, Experiential Learning, Leadership Skill Training and Mentoring and Soft Skills training. She has facilitated a variety of training programs with adult learners.
Ms. Aditi Ghosh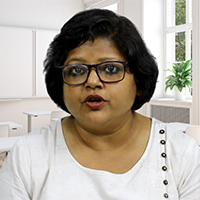 Ms. Aditi is an English major from the University of Calcutta and a certified SEN trainer with 16 years' experience in the training field. She got trained in TEFL in-class program from Asian College of Teachers, Kolkata and successfully cleared the TESOL Canada Board Exam as well. Aditi stands tall and strong with an extensive experience in training adult learners as a professional language and soft skills trainer.
Ms. Mitul Mukherjee Sengupta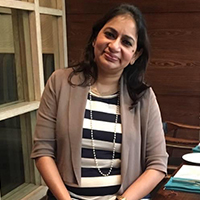 Ms. Mitul Mukherjee Sengupta has completed Associate Technical Accountant – CA (Inter) and is a certified Business English Teacher Trainer and TEFL/TESOL Certificate holder who is passionate about teaching, coaching, helping students pursue their goals by unlocking their potential, shedding their inhibitions and mastering specific skill sets to meet end objectives. Her background in finance and service industry coupled with practical knowledge of image consultancy enables her to meet the needs of her students and prepare them for a better future. Professionally qualified finance professional with decade old experience in financial and service industries working across multinational banks and hospitality chains like Standard Chartered Bank and Hyatt Regency, Mitul has also been into counselling and workshop presentations on personality development, communication skills, effective body language, self-branding, business etiquette, social networking and public speaking.
Ms. Tarveen Kaur

Tarveen is a highly skilled, enthusiastic, professional specializing in Personal and Corporate Image Branding. She has an experience of over 5 years in training corporate heads and over 8 years working with professionals, entrepreneurs, students, individuals from all walks of life in the field of personality development, enhanced communication skills and brand building. She is a teacher trainer at Asian College of Teachers apart from being an internationally certified image consultant, an authorised trainer and on-board counsel for study overseas program students.
Ms. Ruchi Kumari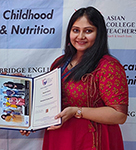 Ms. Ruchi is part of the training division at Asian College of Teachers and has been conducting training sessions in different areas of teacher training. She holds a Masters in English Literature from Ravenshaw University, PGDM in Sports Management from NIEM Pune and Diploma in Technical writing from Technowrites Pune.
Ms. Ashika R Chandni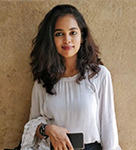 Ms. Ashika has been a trainer with Asian College of Teachers since 2018. She is a TEFL Graduate and is very passionate about languages. As a TEFL trainer at Asian College of Teachers, she deals with adult learners who are very challenging but she considers it to be hugely rewarding and enriching.
Ms. Sukanya Barman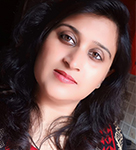 Ms. Sukanya is a TEFL/TESOL trainer with Asian college of Teachers. She holds an MBA in HR from Bridge School of Management, TEFL certified and also IELTS certified from British Council. She has been a participant at CELTA workshop program at British Council.
Ms. Megha Basu

Ms. Megha Basu is a teacher trainer at Asian College of Teachers, a leading teacher education institution in Asia. She holds a degree in Media and Communications and is also a TEFL/TESOL certificate holder. She has 5 years of experience in both corporate and academic services. She is currently upgrading her skills in Humanities and Social Sciences. Megha's teaching method is practical oriented which helps and motivates her trainees to enhance their skills and efficiency in any classroom they are part of.