About Us
Resources
Improving Mobile Learning Methods For Online Learners
Improving Mobile Learning Methods For Online Learners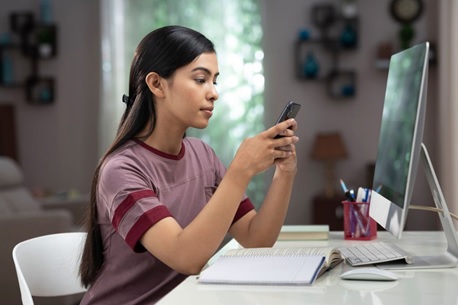 E-learning platforms have become highly notable these days because of multiple reasons. The basic reason is that it is portable and extremely handy. Smartphones are easily available in this digital era as smartphones are no more a mark of affluence. A smartphone is pretty affordable costs below INR 5000. Thus, the number of e-learning professionals is increasing daily, and hence, people love this small screen format of learning.

Due to the popularity of mobile learners and e-learning professionals, virtual educators and virtual online teaching courses are putting a great deal of emphasis on developing a mobile learning strategy. Though the concept of e-learning was disastrous in the initial days due to the drastic transition from traditional classroom structure yet people are switching to this format now.

Mobile learning apps are creating learning solutions that are apt for virtual learning on any type of mobile device. Though the problem of high-speed internet persists, developers are working on this issue by designing software that requires less space and can function smoothly at a moderate internet speed.

Let's see why e-learning systems are the favorites of students as well teachers.

There is no need to commute to the educational institution.
Cost-effective
The need for commuting to institutions has been reduced.
Can be accessed from mobile easily.
Flexible, i.e., one can learn online from anywhere having a stable internet connection and a smartphone.
Self-assessment and evaluation are no more troublesome
Students have the access to resuming back to the chapter they were studying.
Microlearning has helped students to learn explicitly.
Online assignments are easy to attend.
There are certain tips, I must recommend so that this mobile learning funda becomes more effective and efficient so that e-learning professionals and students can have a wholesome learning experience.
APPROPRIATE CONTENT: Just like they say content is the king, the entire learning content should be able to pull students' attention by having all the essential facts that will encourage them to learn better. Moreover, content should be updated and any presence of the old syllabus is unwanted. Online trainers and educators push hard to make virtual online teaching (VOLT) more flexible and fresh.
CONNECTION WITH SOCIAL MEDIA: Our morning begins with scrolling our newsfeed or checking notifications on Facebook or Instagram. Therefore, incorporating the idea of social learning with learning platforms is going to be a mammoth step in the field of virtual learning. Connecting learning apps to social media will be a great step.
TRACKING THE PERFORMANCE: Another vital approach will be tracking how e-learners are active on the learning steps will be of absolute help. They must have the access to the learning portal and they should be able to use the platform without any difficulty. These new-age learning strategies must be crafted simply so that online learners can study any chapter they want to at any time. Hence, an online training implementation will become fruitful when trainers will be giving proper feedback to the learners.
MICROLEARNING: Microlearning is the talk of the town and hence, instructional designers should design the chapters by breaking those into small modules. Each module must have an assignment at the end of it so that after getting done with that module online learners can attempt the assignment to evaluate their progress themselves. A term and condition must be effective that unless the assignment is finished with the passing score the trainees will not be able to move to the next module. This particular feature must be made a mandatory and significant part of the learning management system.
GAMIFICATION: The popularity of e-learning will be back to square one like it was during the initial period if the engagement of online trainees is poor. Thus, to assure a complete involvement of e-learners developers is creating crazy learning apps having features just like that of an online game. Gamification is the center of attraction and students are going ga-ga!

Hence, using these specific methods and technologies mobile learning can be improved to a huge level. Virtual online teaching courses can be given a better and more efficient structure so that those can be accessed anywhere even on mobile devices.