A Montessori cycle consists of 3 phases and Dr. Maria Montessori has developed this Montessori work cycle for the rapid and smooth development of a child. A Montessori kindergarten aims at an overall academic, physical, social, and cognitive development of a child. This Montessori 3-year cycle can be divided into 3 parts and each part has its significance in a child's life.
Montessori educators or aspirants who want to be into Montessori teaching can look up to Montessori teacher training courses. The demand for Montessori teachers is excessively high in society because the pattern and methodology they follow are apt for the development of a child's skill and personality. This course is available online and learners receive an internationally accredited Montessori teacher certification once they complete the course.
Learn more about life-changing hacks for a Montessori classroom. Click here!
MONTESSORI CYCLE:
A certified Montessori teacher is expert enough to implement the Montessori philosophy by executing a Montessori three-year cycle. The 1st year is known as the Foundation period and kids whose age is within 24 months to 3 years fall under this category. The 2nd year is called the Exploration period and the age bandwidth is 3-4 years. A third-year student is within the age group of 4-5 years old and this period is known as the Application period.
The first year is having the foundation for learning at that stage of development and this is a very early stage. In the second year, Montessori children minutely explore the lessons and materials. When it comes to the third year, children start to apply their learning what they have learned in the last two years in new ways. This third year is critical for the formation of higher-level thinking skills. This critical thinking ability that a child gains at this stage has always been effective in the long term for their professional development.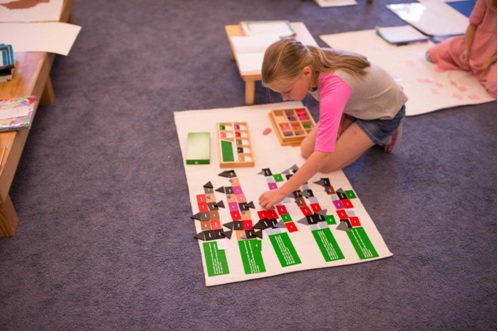 Image source: https://images.app.goo.gl/WVQ5wCQVcn8tHqye6

The principles of a Montessori school are very unique. This third year of Montessori schools is just like a higher secondary student. A child's development at this stage is very fertile. Kids who are into Montessori from their early childhood become self-dependent and their confidence level grows to a great extent. The child becomes very concerned about what he/she is learning in the 3rd stage.
PLANES OF DEVELOPMENT:
There are 6 planes of development in a person and it begins when they're an infant. The Montessori educational approach is accurate for all kids because this will help them to grow into self-dependent people in the future. Becoming self-dependent is necessary because based on that performance on both professional and personal levels.
These 6 phases are:
First plane:
0–3 years: The child absorbs everything in her environment, subconsciously
3–6 years: The child is now conscious of what is being learned
Second plane:
6–9 years: The child can comprehend. He has a very curious and active imagination. It is time for creating a personal code of ethics.
9–12 years: The child can work more abstractly and enjoys bigger responsibilities. Inner order takes precedent over external order. Ethics now expands to peers and the world at large.
Third plane:
12–15 years: Puberty
15–18 years: Adolescence
Based on all these traits, the Montessori teacher training courses are guiding aspirants who want to become Montessori educators.
Written By :
Debolina Chakraborty