If you're an aspiring teacher and want to teach English you should consider teaching students online and in-classroom sessions. Students who are speakers of other languages and learning the English language as a second or foreign language are called English Language Learners (ELLs). Now, there are certain ELL levels, and being an English teacher you must be prepared enough to teach every level.
Teacher training institutes in Bangalore are guiding aspirants and professional English teachers to teach different levels of ESL learners or ELL learners through TEFL courses in Bangalore. An international career in teaching EFL/ESL will give you exotic opportunities to teach ELLs across the globe. A TEFL program will help you teach different age groups and different levels of ELL students.
WHAT ARE THE LEVELS OF ELL?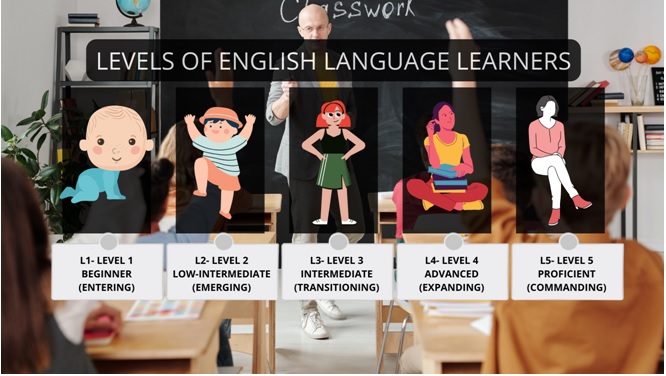 Does not matter if you're a native English speaker or a non-native one, if you decide to become an EFL/ESL teacher you must be able to teach each of these levels. You'll get rock-solid job opportunities as an English teacher if you know the proper teaching methodologies. A TEFL certification, besides making you a skilled English teacher, will make you 21st-century classroom-ready where you'll learn classroom management as well.
IS CLASSROOM MANAGEMENT FOR TEACHING ELLs?
You might wonder what is the connection between classroom management and teaching English. Classroom management skill plays an integral role when you will teach a big group batch of students having diverse cultures. Cross-cultural management is an effective strategy that you must acquire to implement other than teaching English professionally to ELLs.
Public schools, private schools, international schools, and other language academies worldwide have numerous ex-pats and over there people are belonging to various cultures. While teaching English as a foreign language to students you must be aware of the classroom decorum so that nobody feels disrespected.
If you're teaching English online and you do not have any relevant teaching experience, learning classroom etiquette is important. It is because, at the end of the day, there is always a fine line between an in-person conversation and online interaction. TEFL-certified teachers should maintain classroom decorum especially when they are teaching online on any website because feedback from learners will reflect the rate of their upcoming English teaching job opportunities.
SO IS THERE ANY STRATEGIES FOR TEACHING ELLs?
Breathe! There are plenty of teaching strategies for ELLs and those are absolutely brilliant. Generally, there are different levels of learners in a single ELL class and we'll discuss that some other day. It is a mixture of students where some are from the L1 level and some from other levels. There are exclusive reasons behind that but for now, let's see how to execute strategies for teaching ELLs.

Seating method:
Buddy system: Seat the advanced student next to the beginner where the former will help the latter.
Mixed-level: Dividing the entire class into groups of 5-6 students having at least one beginner, one advanced, and one intermediate level student. This will speed up the level of learning.
Same-level groups: Students are divided according to their levels.
Each activity has multiple levels:
Beginner: Start any assignment with the lowest level student present in the class so that everyone can understand what is being taught. Learning basics is important.
Intermediate: Once the basic learning is done, you must upgrade the lesson planning to another level that is one step harder than the basic level.
Advanced: This is the final level where everyone will attempt some assignments with higher-difficulties
Same concept but different ways:
Tell: This begins with giving information verbally. A non-English speaking who does not even understand English terms will get along with certain terms once they start listening.
Write: It will help beginners to get familiar with spellings, alphabets, letters, etc.
Show: Teaching students using tools is very effective as beginners will tend to remember things that they will see.
Game sessions:
Teams should be picked strategically where students from every level will be present.
Make sure every student is actively participating and is not facing issues in understanding the instructions.
Such games must be chosen that will give students a learning experience and they will have fun as well.

Personal attention to all students:
Being an English teacher, you must reach out to you beginners who have zero or very ground-level knowledge of English. If you find out that many of them are facing issues in learning English, assemble them and do a few exercises with them to help them learn better.
For advanced learners, you must make assignments that are challenging and have high-difficulty levels. It will help learners to learn the language better.
Additional opportunities:
These are additional support that you must provide to you students when they need it. It can playing audio books having stories, and so on.
THE BOTTOM LINE:
To reach the target line you must have a master plan. Being an ESL teacher, you must also know strategies to make your class successful and TEFL courses in Bangalore are providing the right solution to make you feel empowered as an English teacher. To know more about international career in teaching EFL/ESL, call the toll-free number: 1800-212-6400.
Written By :
Debolina Chakraborty