Feedback is one of the most critical aspects for any person whether it's students of a school or professional athlete, to grow in their respective profession. During the pandemic, the education system all over the world took a major hit. School got closed, and study and learning got halted for every student.
However, after some time things are getting better and the education system found a new norm to continue learning which is E-learning. During E-learning, teachers started to give lectures and even feedback for the betterment of every student.
In addition, according to an article by elearningfeeds.com, after the pandemic e-learning market is booming and it's going to stay for a long time.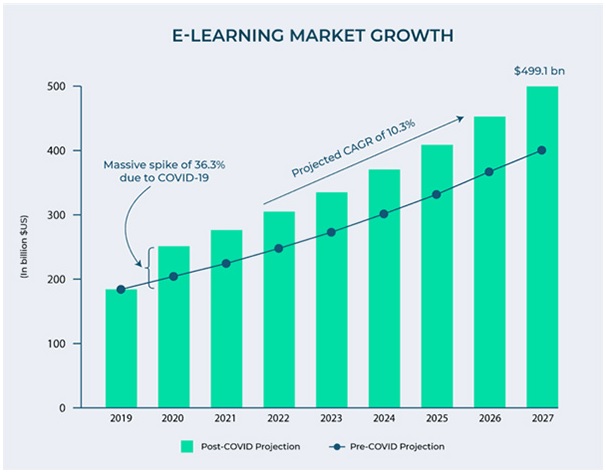 Source: https://elearningfeeds.com/elearning-statistics-and-trends-2020/

Instead of giving constructive feedback remarks from your red pen in an orthodox way, if you created a short 3-5 min personalized feedback video for every student then it will create an impression of you over your students that you actually care about their progress.
You can talk about their strength and weaknesses that they need to focus on in your feedback video, this will imply that you care about them. In addition, if a student or any person gets a feeling that the person who is giving feedback actually cares about them, then you will see they major shift in them and they will actively work on their weakness to achieve success.
If you're an existing teacher who has more interest in adapting themselves with time to become a tech-savvy teacher then we recommend you to explore our virtual online teaching (VOLT) course, which will refine your teaching skills in this modern era of technology.
Now, let's get to know more about virtual online teaching (VOLT), its benefits, and ways of providing feedback virtually to students.
Benefits of giving personalized feedback virtually:
As we have mentioned at the beginning feedback is critical for growth in any profession. There are plenty of benefits for students from personalized feedback such as:
If you create a personalized feedback video for every student then the message will be clear and crisp compares to when you give feedback by writing.
You can show that you're creating a feedback video with lots of empathy and concern which students can feel while watching it on their screens.
You can explain your points in Feedback videos much better about their strength and weakness, and what are the expectations they need to match to get better. When they have a goal in mind it would be easier to achieve them.
Students can re-watch their personalized feedback video, again and again, to understand what suggestions or feedback their teachers are actually saying them to focus on.

Let's get to know some of the best ways to provide feedback during virtual online teaching (VOLT):
Keeping the feedback video short and crisp will get more attention from students. If you feel like there's more you need to explain you can have virtual meeting one-on-one with students to make them understand your point.
Create video structurally:

At the beginning of every student's Personalized Feedback video, make sure you iterate the chronological orders with respect to what you have made videos, so students don't feel lost.
Ex- For the Science assignment, you need to give feedback on two different topics so iterate that at the beginning of the video.
Pair written feedback with virtual feedback:

Virtual feedback itself is more impactful, but what if you give written remarks on their assignments or homework? It will create double the impact.
You can achieve this via camera and screen share applications like Screenleap, Zoom, Loom, etc. Through the camera, you can give feedback face to face by making eye contact and showing empathy, concern, body language, and tonality of your voice to create a more human connection with students.
At the same time, point out some remarks, which you have given in their assignments, or any work through the screen sharing option simultaneously by iterating it and explaining it.
Don't try to be a perfectionist:

A teacher always feels to do everything perfectly. However, while creating a personalized feedback video don't try to create scripts, just think you're doing your job but virtually. All you need to take care about the video is that it should be in chronological order for better understanding of students, that's it.
Final Thoughts
To conclude, we can say that feedback is quite essential to grow in every profession. Nevertheless, if you want to adapt your teaching skill to the modern technologically advanced era then we recommend our virtual online teaching (VOLT) course, which will prepare you for how to teach and handle students virtually.
Happy Teaching!
Written By :
Abhishek