In-class ITD Course
About the International Teaching Diploma Course Bangalore
International Teaching Diploma in Early Childhood Care, Pre & Primary, Montessori, Nursery and Special Education Needs (SEN) is specially designed for teaching aspirants who have a dream to teach globally.


The course focuses on instilling essential expertise required to be an efficient teacher able to teach kids all over the world. The specialized course imparts learner-centric teaching techniques and activities which will make the aspiring teachers more confident as well as competent to face the coming of age classrooms of contemporary times.


It equips the aspiring or experienced teacher with the competency which is apt for 21st century learners. The specially designed in-class course also includes Montessori and Nursery Teachers Training fit for international classrooms. The course also provides the candidates with an additional opportunity to appear for the prestigious Teaching Knowledge Test (TKT) offered by Cambridge University.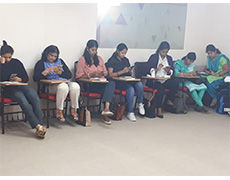 Cambridge TKT
TKT or Teaching Knowledge Test, conducted by Cambridge, is an examination which helps to identify the candidates' basic teaching skills. The test comprises of three modules in all; after successfully completing each, the candidates will receive certificate from the prestigious Cambridge University.
The test is apt for modern day teachers who look forward to developing themselves into competent educators for learners across the globe.
After appearing for the examination, you will know where you stand as an educator and accordingly upgrade yourself.
Moreover, the certificate that the candidates receive from Cambridge, needless to say, will help them stand out from the rest of the crowd who merely possess a teachers training certificate.
Holding a Cambridge certificate will allow you to work in some of the best educational institutions on this planet and help you achieve a career of your dreams.
Cambridge TKT Dates
Bangalore : 19th August 2023
Kolkata : 25th November 2023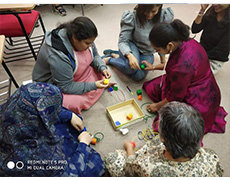 Specialized courses offered with the International Teaching Diploma course
Specialized courses offered with the International Teaching Diploma course by Asian College of Teachers benefits the aspirants to upgrade their skills in global teaching in order to guide students with varied capabilities. It offers specialization in Pre and Primary, Montessori and Nursery Teachers Training. The in-class course is available in full-time mode, which can be availed by the candidates.
Eligibility and Course Fee
Aspiring and experienced teachers can enrol in the course
10+2 is the minimum criterion for enrolment
The full-time course is reasonably priced at 40000 INR (inclusive of taxes)
Instalment payment option is also available
Teaching and Learning Modes
The course is available in in-class mode
The maximum duration of the full-time course is 140 hours (120 hours + 20 hours teaching practice) Class timing - 9:30 am - 5:30 pm
Candidates get the benefit of teaching practice sessions
In-class ITD Course Date in Bangalore
26th February - 15th March 2024 (InClass)
International Teaching Diploma
I. Principles of Teaching:
Principles of Education
Educational Psychology and Theories of Learning
Different Teaching Methods/Approaches for YL & AL
Fostering Creativity in the early years
Developing Critical Thinking Skills
Teacher as facilitator- monitoring & motivation
II. Teaching Strategies
Lesson planning and instructional strategies
Assessment and evaluation in differentiated learning
Classroom management for inclusive classrooms - SEN
Resource and material Development
Language learning VS acquisition
III. Digital Literacy: 21st century Classroom
Introduction to Digital Literacy
Evaluating Sources
The Learner Centric Classroom
Skill Sets for the 21st Century Learner
Devices of Communication, Importance of M-Learning & Applications
Assessing and Selecting the Right M-Learning Apps and LMS
Virtual Learning Environments and Learning Tools (VOLT)
Digital Literacy – Risks & Safety Measures
Creating and Managing Your Personal Brand
Instructional Classroom Strategies
IV. Assessment & Evaluation
Introduction to Assessment and Evaluation
Types and Characteristics of Assessments
Principles of Assessment
Learning Cycles
Assessment – From Application to Practice
Mapping the Learning Process - Case Studies
Designing 21st Century Assessment
Objectives and Functions of Evaluation and Assessment
V. Early Childhood Care and Education
Introduction to ECCE
Stages of development
Factors affecting early childhood
Helping early childhood learners settle down in school
VI. Montessori Teaching
Maria Montessori – philosophy, methodology, psychology
EPL & Sensorial
Language and Maths in Montessori school
Art and craft for young learners
VII. Nursery Teaching
Introduction to teaching young learners
Importance of play and play way approach
Child, health & nutrition
Self-awareness
VIII. Primary & Secondary Teaching
Project method
Discovery learning
Grammar & phonology
Integrating technology in the classroom
IX. Special Education Needs – SEN
Identifying various types of learning challenges
Identifying and supporting learners with special needs
Managing behaviour of special need children
ADHD, Autism, Down Syndrome, Cerebral Palsy
X. Primary STEM
Germination in Plants
Soil and Rock
Activities for Pre-primary students
**Microteaching at the end of the course
Admission and Support Services
ACT's admission process is quite easy and compliant
You can opt for any online payment method
Application form can be submitted online
ACT's submission department will contact the candidates via mail or over phone
Any form of payment method can be opted (by using debit/credit card or by depositing cash, cheque or demand draft in ACT's bank account)
Courses are always accompanied by experienced and accomplished tutors
After the completion of the course, the teaching practice session is compulsory
Job Prospects
International Teaching Diploma course by Asian College of Teachers acquaints the aspirants with essential skills to teach kids globally. The successful completion of the ITD course which includes specializations in pre and primary, Montessori and nursery teachers training, paves the way for ample job opportunities to work as a teacher in any corner of the world. The course also appeals to those willing to step into the field of Montessori and Nursery Education as an entrepreneur or to get involved in pre and primary education sector. Also, the Cambridge Certificate will provide the candidates with all the correct career prospects and opportunities in the global educational sector whereby they can also work as Curriculum Developer, Course Coordinator and Consultants in relation with schools and other educational bodies.
Certification & Accreditation
The candidates will receive a globally recognized certificate from Asian College of Teachers.
The prestigious EQAC - Education Quality Accreditation Commission has accredited Asian College of Teachers (ACT) that has met all the standards set by this Commission
Accreditation Service for International Schools, Colleges and Universities (ASIC) a member of British Quality Foundation, has accredited Asian College of Teachers (ACT)
ITD Program is accredited by World Certification institute (WCI)
All ACT courses are accredited by International Association for Quality Assurance in Higher Education (QAHE)
ACT is a member of CPD Certification Service
Asian College of Teachers is a member of The National Association of Special Education Teachers (NASET)
ACT is an organizational member of Childhood Education International (CEI)
ACT holds membership of European Association for International Education (EAIE)
All ACT courses are endorsed by NCC, an awarding organisation and a global provider of British education