About Us
Resources
What All Are Causing Burnout To HR Leaders These Days?
What All Are Causing Burnout To HR Leaders These Days?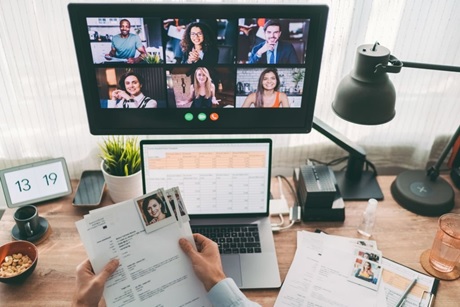 Human resource leadership is one of the toughest management structures because it has to manage people from any hierarchy of an organization. To execute HR responsibilities accurately so as to become an expert in people as well as time management online professional PG diploma in train the trainer certification course will be the best guidance.

WHY TRAIN THE TRAINER COURSE?

Train the trainer is an esteemed certification that enables professionals from every department to polish their skills and become a better or rather the best version of themselves. Corporate trainers, HR managers/executives, CEOs, managers, etc., are eligible to undergo this course.
Asian College of Teachers offers a PG diploma in train the trainer certification course that is endorsed and accredited by reputed international bodies. Therefore, learners who pursue this course can definitely feel the vibe as soon as they enroll themselves. This course is meant for learning and development purposes, and leadership qualities need to be developed every now and then based on the demand of scenarios.

But these days HR leaders are facing multiple issues within the organization and it is not restricted to only one or two departments. They are numerous facts that are troubling them and to some extent, they do not have any clue how to get rid of them.
WHERE EXACTLY DO HR LEADERS ARE FACING PROBLEMS?
HRs take care of others before they think about themselves and the stress is for real. Struggling is definitely something that irks someone but dealing with everyone's struggle is a damn burnout.

Given the pandemic, there has been a drastic change in the entire management structure where millions have been laid off, and hierarchical movements have been super fast. That was indeed a tough time when everyone, including HR leaders, was working from home. That work pressure was insane and burnout lead to several mental health problems, often termed official occupational syndrome.

When things started becoming normal and organizations reopened, HRs started commuting to their respective workplaces. While for many, it was a paranoid moment when teams or groups were always marching in gangs. For some, wearing a mask and speaking constantly became absolutely hectic.

Recruitment sounds like a fancy process but it is actually burning the midnight oil. Before conducting an interview HR has to plan several things. An HR'r job does not end with hiring a candidate after interviewing him/her. It takes a lot to evaluate and assess the top-level talent, CTC expectations, the importance of the resource, budget restraint of the company, etc.

Now then, every organization wants to hire a handful of talented and skilled professionals. The competition is dangerously severe and an alarming situation arises when some significant candidates are having offers from other organizations. The negotiation on the table sometimes takes a toll on the mental health because sometimes candidates want to switch to a hike rather than a better work ambiance and work progress.

A PG diploma in training the trainer the course is preferred and favored by multiple organizations because besides training the learners for their professional growth, this certification course focuses on mental health stability, stress management, time management, and other problems being mentioned over here.

Let's hear out some more information about human resource management:
At the same, employee retention is also not a walk in the park. The covid-19 has given chances to many employees to permanently work from home. Consequently, top companies like Spotify, Slack, Facebook/Meta, Shopify, etc., are giving opportunities to employees to work remotely permanently. Airbnb has added itself to the existing list. However, other companies like Google, TCS, Wipro, Amazon, Microsoft, etc., are providing a hybrid model to employees.

Well, companies that are asking employees to return to the office are facing major problems. Employees who are experienced and skilled are applying in those companies where either working remotely or a hybrid model is prevailing. As a result, employee retention has become a minor alarm for companies who're not providing either of these facilities. Consequently, HRs are facing issues in employee retention because vacancies available in companies allowing work-from-home are huge in number.

In many organizations, HR leaders generally have excellent communication and administration skills but their critical technical skills lacks to a great extent. According to research conducted by McLean & Company in the year on HR trends reports, only a few HR leaders are having foolproof knowledge of technology. Cloud Technology, Talent Management Software (TMS), L&D software, Gamification Techniques, Social Media Handling, etc., are some of the critical skills that HR must have.

However, only a few percentages is having this knowledge. Since everything is more or less AI or the internet of things related, therefore, it is important for HR leaders to have proper knowledge of the technical aspect of people management. Train the trainer course here becomes the savior as they preach the necessity of having such critical skills. Thus, HR leaders will no more lag behind in terms of technological strength.

Small or medium-level businesses often go for solo human resource specialists. Now that is some real problem not a bunch of high-school stuff that can be dealt with easily. They're being pulled in a hundred different directions and may feel like they're caught between the needs of the executive team, managers, and individual contributors — who are not always on the same page.

So in a nutshell,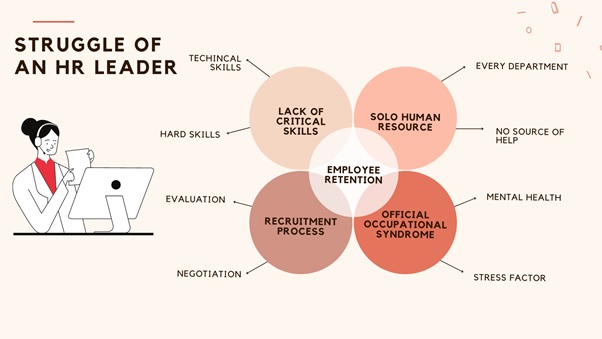 These are the basic reasons why HR leaders are struggling these days. Post pandemic when people are getting back to the office the struggle is for real because gone are the days when working in pajamas is fine. From checking the dress code to taking care of the payroll management, HRs often feel suffocated. Work pressure exists everywhere but streamlining and channelizing the workflow is essential. That's where an Online professional PG diploma in Train the trainer comes into action where HRs can learn a lot of various skills by being at home.